OUR BUSINESS: electrical insulation products
For more than 70 years, we design and develop, design and produce and offer a complete range of our electrical insulation products for dielectric insulators intended for a clientele of motor manufacturers, transformer manufacturers, automotive equipment suppliers (alternators, electronic modules ..), winders, and other manufacturers of electrical components.
With a perfect control of the whole production line, we have a solid experience both on flexible insulators, and on liquid insulators, and on the fertility between the two, with our liquid insulators applied on our flexible insulators.
We supply our electrical insulation products to the largest players in the energy, rail and automotive equipment industries. We adapt our production to adapt to the demands of the largest groups, such as those of very small businesses or SMEs.
To complete our range of insulators, we also offer our range of products and materials for the repair of electric motors.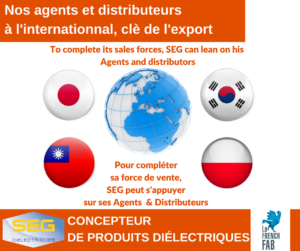 South Korea
Daenggi Corporation
Phone: + 82 (2) 2068 4707
Fax: + 82 (2) 2068 4709
E-mail : daenggico@korea.com
Contact: Mr David Kim
Poland
Japan
Correns Corporation
Phone: + 81 3 5114 0949
Fax: + 81 3 3583 1330
E-mail : ec3@correns.co.jp
Contact: Mr Hajime Noda
Taiwan
Taiwan Astra
Phone: + 886-223 771 965
Fax: + 886 223 772 065
E-mail : rtastra@ms75.hinet.net
Contact: Mr Roger Tzou
SOFT INSULATION:
Wide range of flexible multi-film insulation that can be impregnated with our resins (Prepreg, DMD, NMN), NOMEX® based laminates (Dupont TM),
3M TM base, polyimide base, glass mesh, intended mainly for electric motors, automotive alternators and dry transformers.
These can be supplied according to the size and shape requested by the customer. They can also be covered with a retardant coating flame.
Impregnation and finishing varnish:
epoxy, polyester and imide unsaturated polyester (VOC free) for
motors, rotors and stators.
RESINS:
Epoxy type for applications in electrical engineering and electronics, polyurethane type for the coating of electronic boards, medium and low voltage transformers and condensators.
TRADE:
The SEG company offers you a wide range of products included in the composition of the motor and electric transformer: